Sell your home faster…at a higher price!
Would you like your home to sell faster AND closer to list price?
Today's competitive market demands homeowners look beyond cleaning and de-cluttering their homes for a sale.  A stunning first impression is THE one-time opportunity to capture a buyer's interest and drive offers.  Staging gives a home an updated and professional look throughout to entice buyers.
After Photo
Before Photo
As a Qualified Staging Professional, I offer staging suggestions and ideas to give your home an inviting and cohesive look.  Starting with a Buyers-Eye Assessment™ to the realtor's open house for your home, Yours Redesigned will enhance appeal and emphasize your home's best features.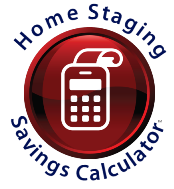 Levels of Staging Services explained:
"Buyers Eye Assessment" ™, the Staging Consultation:
An extensive curb-to-backyard walk-through with the seller, realtor, or both, to determine how a buyer may view the home and property.
A complete room-by-room checklist for the seller to take notes and staging tips.
An organized list of suggestions from the stager to accomplish prior to placing the home on the market.
Complete proposal from stager for any additional work we can perform and any referrals needed.
Enhanced Staging:
Minor refresh and rearrangement of furniture in the PRIMARY rooms.
The addition of vignettes using homeowner's belongings to showcase the best features of the home.
Added accessories like greens or florals, and art work to attract a buyer's eye.
Color suggestions, decorative touches, or the addition of items to make rooms sparkle.
Larger pieces purchased or rented to enhance the features of the home.
Complete home staging.
Whole-house, curb to backyard or only public areas:
Furniture is placed to showcase the rooms and traffic flow.
Homeowner's art and accessories are used to decorate the house.
Additional items are added, usually lamps, pillows, throws, plants, etc.
Homeowner is responsible for purchase or rental cost of these items.
Customer Reviews:
"GraceAnn of Yours Redesigned transformed my home using only items that I currently owned. By simply moving my existing furniture into more conversational and elegant placement, I feel like I'm living in a new home. It made all the same furnishings feel new. She showed such creativity in giving the house a fresh look. I couldn't wait to show it off to my friends!" Angela L.
"The first open house was held yesterday. I saw the way everything was laid out and it was great considering what you had to work with!  A few who went through the open house commented to the broker — 'this looks like a model' — does anyone live here."
Ivy B. Chicago, IL
Just wanted to let you know we have a 2nd showing today on the client's home. Looks like your business does work! The agent who showed it yesterday and going to show it again today, saw it before and now afterwards. She told me it was a GREAT improvement, which I already knew! Thanks again! I look forward to you helping get more of my listings sold! Carmen Keslin ~ Realtor ~ Palos Park, IL
Thank you so very much for the total house "makeover" today! I was absolutely stunned by the quality of your work, and the collective creativity that proved to be a definite recipe for success!   Seeing my own furniture and accessories used in new and exciting ways made me feel as though I was walking through a brand new home…no, a MODEL home! You gave "odds and ends" new life that radiated an aura of " House Beautiful" from top to bottom.   Truly, you are more than Stagers, you seem to be somewhat of Alchemists who can change a lump of coal into a diamond! I am forever grateful. There is no doubt that our house will sell quickly, even in this tough market.   Please extend my heartfelt thanks again to your crew. They were all sweethearts!   Janet A.and family ~ Algonquin, IL
Home Staging Companies, Naperville, IL